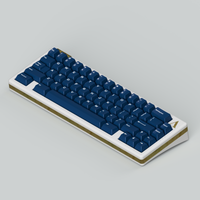 Atlas is a premium, USA produced 65% full-isolation gasket mounted keyboard with an 8° typing angle.
There are two PCB options, wireless Bluetooth LE 5.0 or QMK/VIA.
The QMK/VIA PCB has a tiny audio buzzer and rumble feedback (vibration) support.
It has two dedicated rear USB ports, a 3.5mm headphone jack and a rear mounted rotary encoder for volume control.
It also features hollow side winglets to shine RGB down, and 10U spacebar support.
As a final touch, it has 3 dedicated LED indicators for locking support, or battery charging indication.
Wired or Wireless PCB options
Hotswap or Solder PCB variants
Full Isolation Gasket Mounted
Dedicated Triple Case Indicators
Rear Rotary Encoder
Dual USB Hub with Audio Jack
RGB Underglow
Regular or Split Backspace
Regular or Stepped Caps Lock
ANSI or ISO Left Shift
ANSI or ISO Enter
Split Right Shift
7u, 10u Spacebar
1 x Badge (SS or Brass)
1 x Case Top
1 x Blocker Badge
1 x Plate
1 x Mid-layer (SS or Brass)
1 x Rotary Encoder with SS or Brass Knob
1 x Case Bottom
1 x Weight (SS or Brass)
1 x Dual USB Hub
1 x USB-C Daughter-board
1 x PCB (BT or QMK)
3 x JST Cables
12 x Poron Gasket Strips
1 x PCB/Plate EVA Foam
1 x Case EVA Foam
2 x M3 Badge Screws
2 x Gold M3 Weight Screws
3 x M2 USB Hub Screws
4 x M2 USB-C Daughter-board Screws
2 x Gold M3 Encoder Screws
8 x Gold M3 Case Screws
4 x 3M Bump-on Case Feet